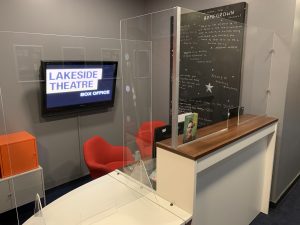 How are you working to make the theatre COVID secure?
Here at Lakeside Theatre, we are working hard to make sure the theatre is safe for everyone before we start our shows up again.
At the moment we are undergoing ventilation testing and working with the university estates team to make sure the theatre spaces are safe for you to come back inside and get involved.
When will you be open to the public again?
At the moment we are not able to open to the public. We are working hard to ensure the building is ready for teaching in the new academic year. We will then be able to work with the university to get our public performances back on the schedule.
However, the Lakeside Theatre Cafe will be opening at the beginning of October and will be operating a COVID safe service.
How can I still enjoy the work that Lakeside Theatre is producing?
We are putting together a series of digital theatre pieces, interactive workshops and working with students and local artists to continue to give them a performance platform, while the building is not accessible.
This can all be found on our website over the coming months.
For more information on the University of Essex COVID 19 please visit the university web site.