UPDATE 9/10/13: The Culture Crawl is sold out, but if you want to come you still can! Don't book, just turn up at Lakeside Theatre at 1pm today.
The Culture Crawl returns!
There's a huge amount of cultural activity going in Colchester for everyone to enjoy. Come on this free guided tour of the best arts venues in Colchester!
The Culture Crawl visits Lakeside Theatre > Art Exchange > firstsite > The Minories Gallery > Mercury Theatre > Colchester Arts Centre > SlackSpace > The Waiting Room > Back to Uni!
The tour lasts from 1pm to around 6pm. Places are free but strictly limited. Book now to avoid disappointment!
Facebook event: https://www.facebook.com/events/432696970180180/
Quotes from past crawlers:
"The Culture Crawl was amazing – the best day that I've had at uni so far!"
"A breath of fresh air amongst all the academic talks on campus!"
"The Culture Crawl was an experience I couldn't do without. I arrived in the UK recently and it really helped me get my bearings."
"It was a great way to see a different side of Colchester!"
"I think it's a great idea to take students to such interesting places in town – I would have never found them by myself."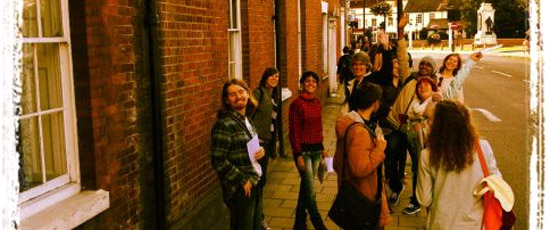 Wed 09 Oct

13:00 - 18:00

£Free!
Book Now