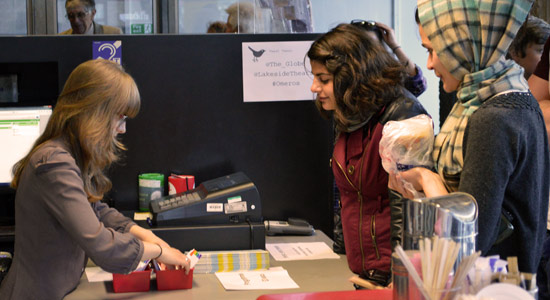 Come and visit us anytime.
Whether it's a catch up with friends over coffee, a trip to the theatre, or chilling out at the Open Mic night, we love it when students come to visit.
Sign up to our mailing list, follow us on Twitter and like us on Facebook for all the latest information.
Cheap Tickets
We know it's tough, 3 weeks into the latest loan payment and nothing to show for it but hangovers and regrets.
Tickets for Essex students are £6 for most shows, and your mates from other Uni's get in on our standard Concession price (usually £9, ID required)
For the price of a single ticket, you can also buy a membership with us, giving you a whole year of discounted tickets – not to mention your second show will be absolutely free!
Where is Lakeside Theatre?
We are located under the Albert Sloman Library on the Colchester Campus. The cafe on the front of the library is the theatre's box office, with the main auditorium and studio theatre both downstairs.
Employment
We regularly recruit students to work part time at Lakeside Theatre. (Our main office team is run almost entirely by Essex graduates, many of whom began by volunteering at Lakeside and working their way up.)
We also offer training in Theatre Management, Arts Marketing, Theatre Technicianship (it's a word) and Young Company Coordination all through the amazing University of Essex Frontrunners Scheme.
Current Availability: No job vacancies right now. Follow us on Twitter and Facebook to be the first to hear about new jobs and Frontrunner positions.
Got a Question?
Want to use Lakeside Theatre for a society event? Want to borrow a costume from our cupboard for an exam? Want to…
email: arts@essex.ac.uk / drop in to see us in the Arts Office, room 5N.7.17 (directly above Top Bar).