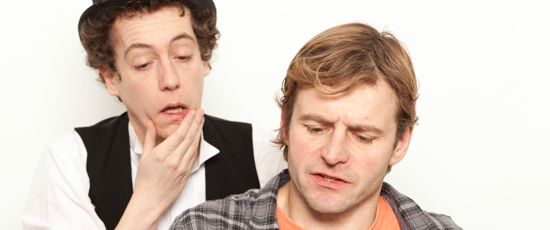 COLLABORATIVE WRITING WORKSHOP @ WIVENHOE BOOKSHOP
Thu 25 Apr
This workshop is a special extra offer for all bookers of The Victorian in the Wall at Lakeside Theatre on 24th April, 7.30pm. Tickets for the workshop are free but with a limited number of spaces available booking is essential
Join Fuel at Wivenhoe Bookshop for this one off workshop with Neil Haigh, professional writer & improviser (Lyric Hammersmith, Soho Theatre, BAC, Bristol Old Vic, Plymouth Drum) based around Fuel's co-production with the Royal Court, The Victorian in the Wall.
The workshop is an exploration of the guiding principles behind most devising/collaborative writing in professional theatre providing an introduction to some of the methods commonly employed to generate material and work.
The Victorian in the Wall takes as its premise the idea, "What would happen if you were doing some basic DIY around the house and you discovered a perfectly preserved, living Victorian gentleman in your wall?" The clash between something everyday and recognisable with something magic and ridiculous will be the inspiration for this collaborative writing experience.
Using and imparting devising techniques en route, Neil will guide participants to create their very own short pieces of devised theatre.
For any further information contact Jordana Golbourn on jordanagolbourn@hotmail.co.uk  
Funded by Arts Council England, the PRS for Music Foundation and the Unity Theatre Trust. Fuel receives national portfolio funding from Arts Council England.