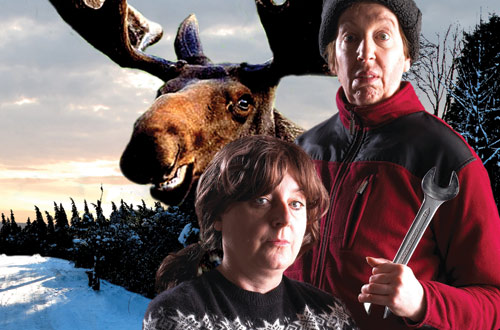 INSPECTOR NORSE (THE GIRL WITH TWO SCREWS LEFT OVER)
Thu 10 Oct
A self-assembly Swedish crime thriller from award-winning comedy duo LipService that will leave you in stitches!
A man is found dead in a barn with a walking pole in his forehead. Enter Inspector Sandra Larsson in her authentic, rustic knitwear. With her own personal life unravelling before our eyes, it is up to her to follow the pattern of a mystery with many holes. Featuring Nordic walking and a drunken moose!
CALLOUT TO LOCAL KNITTING GROUPS: COME AND KNIT OUR SET! Please email knittingfornorse@gmail.com to get involved!
 "A thrilling yarn" The Jonkoping Journal
"Complicated, particularly the cable stitch" Vasterbotten Herald
"LipService are the Laurel and Hardy of literary deconstruction" The Guardian