Jerpit Caribbean pop-up!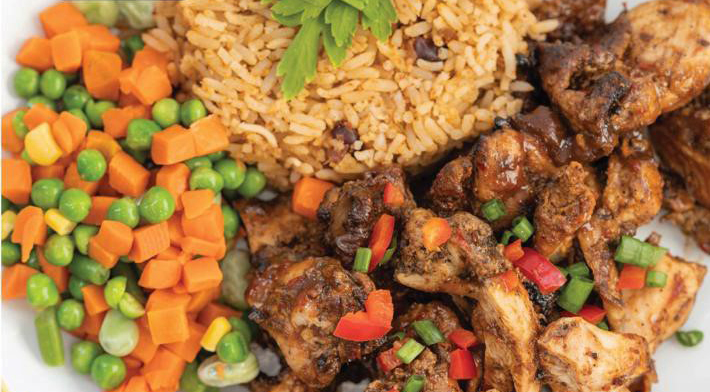 It's Welcome Week and we're opening up our café for yet another taste sensation, introducing Jerkpit!
From Barking, East London, to your taste buds – enjoy the authentic flavours of the Caribbean right here at the Lakeside Theatre Café. We'll be open 9am to 5pm daily throughout Welcome Week (Monday 2 to Friday 6 October). Enjoy good food, good conversation and a safe and inclusive space on campus for all University of Essex students and staff.
About Jerkpit
"I'm thrilled to tell you all about the flavours and taste experiences you can expect at Jerkpit Caribbean restaurant during freshers' week. Get ready for a culinary adventure that will transport your taste buds to the vibrant Carribbean!
At Jerkpit, you'll be treated to an explosion of delicious and authentic Caribbean flavours. Prepare yourself for the tantalising heat and smoky goodness of our signature jerk seasoning. This aromatic blend of spices, including scotch bonnet peppers, allspice, thyme, and garlic, gives their dishes a unique and fiery kick that you won't soon forget.
If you're a fan of succulent meats, you're in for a treat! Jerkpit specialises in perfectly marinated and grilled jerk chicken, pork, and even tofu for our vegetarian friends. The smoky and spicy flavours will dance on your palate, creating a mouth-watering experience like no other.
Aside from our mouth-watering jerk dishes, you can also explore a variety of traditional Caribbean delights. Dive into our flavourful curries, such as curry goat or vegetable curry, bursting with aromatic spices and rich, creamy sauces. Don't forget to try our delectable sides like rice and peas, plantains, or festival (a sweet fried dumpling) to complete your Caribbean feast.
For those with a sweet tooth, Jerkpit has you covered too! Indulge in our delightful desserts like rum cake, coconut tarts, or sweet potato pudding. These treats will provide the perfect ending to your Caribbean culinary journey.
Remember, Jerkpit is all about bringing the vibrant flavours of the Caribbean to your plate. So, get ready to embark on a delightful gastronomic adventure filled with warmth, spice, and the friendliness that the Caribbean is known for. Enjoy, and have a fantastic time at freshers' week!"
Morris Mears – Jerkpit owner
Follow Jerkpit