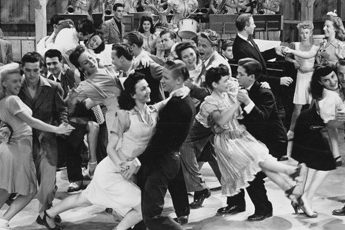 LINDY AT THE LAKESIDE – CLASS 2/2
Tue 11 Mar
New for 2014! Lindy Hop classes & socials.
Classes
Classes are for absolute beginners. It's easy to learn the basic steps of this upbeat, highly sociable, vintage dance. Entry fee covers a 90 minute class downstairs in our studio, followed by a free for all swing dance social upstairs in the bar. Places are limited in the classes so we recommend booking in advance. Classes will always accommodate absolute beginners, and we'll tailor them as much as possible to suit your standard (though they're not intended for anyone beyond beginner level!) We recommend coming to both if you can, but its definitely not a requirement. It's about learning some new moves and having a bit of good old fashioned fun to boot.
Class 1: Tuesday 18 February, 6.00pm. Class 2: Tuesday 11 March, 6.00pm
Socials
Socials are free for all to attend. They'll run after the classes from 7.30-9pm in the Lakeside Theatre bar.