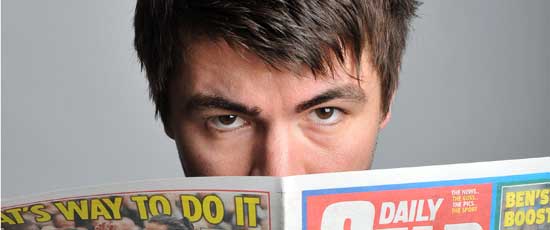 ONE ROGUE REPORTER
Fri 01 Feb

Grab the inside scoop as former Daily Star reporter Rich Peppiatt delivers a merciless dissection of his former trade.
Rich appeared twice before the Leveson Inquiry, his testimonies making headlines around the world. Since his withering resignation letter to Richard Desmond became a viral sensation, Rich has been a regular press commentator on TV and radio.
Following his sell-out run at the Edinburgh Fringe and London's Soho Theatre, Rich is taking his controversial assault on the Street of Shame's finest out on tour – taking on the tabloid bully boys themselves and leaving the likes of Kelvin MacKenzie exposed in more ways than one.
Join Rich as he hilariously plots a path to redemption – save one final rampage through Fleet Street's gutters.
'Breathtaking… Fleet street's very own angel of vengeance.' Guardian
http://www.youtube.com/watch?feature=player_embedded&v=YUvetVB3nOo