Re:write
The University of Essex Theatre Arts Society return to the Lakeside Theatre for their annual Re:write Festival, an original playwriting competition for Essex students.
Four 20-minute plays are performed to an audience, and then a panel of judges decides a winner…
This year we're excited to present the following four plays:
Love's End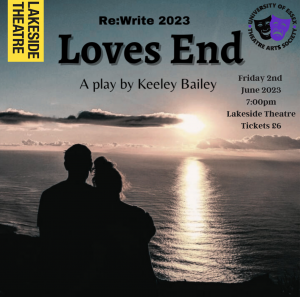 The play tells the story of Sam and Becca, a married army couple. It speaks of unimaginable grief, suffering, and loss and explores how the failings of a woefully inept mental health service fails people daily.
CONTENT WARNINGS: Suicide, War, Death, Miscarriage, Still Birth, Mental Health Issues, Strong Language.
Space Eater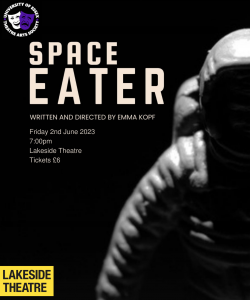 The SpaceEater is endlessly drifting in space, swallowing the emptiness humankind hasn't seen before. Originally the Astronaut was the only passenger, but as time went others joined him, strange beings, not entirely human, he thinks… SpaceEater is a play about home, knowledge, and our desire to see faraway places and existence, inspired by Viktor Vicsek's Space Eater and Ivó Kovács's Searchlights.
CONTENT WARNINGS: Emotionally intense scenes, flashing lights, high-pitched sounds.
Pride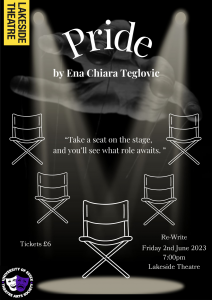 Helena and her friends are telling a story, Helena's story.
It's a story about growing up in theatre, depending on someone and letting the fear of not being good enough ruin your dreams.
CONTENT WARNINGS: Strong language, depictions of emotional abuse, and themes of grooming are subtly mentioned throughout.
Drinks with Friends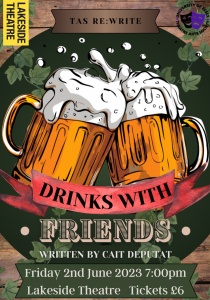 Set in a Viennese beer hall in 1996, three friends from secondary school coincidentally run into each other after losing contact nearly a decade before. As the night unfolds, secrets are revealed and relationships are questioned as the group partakes in a night of heavy drinking.
CONTENT WARNINGS: Heavy drinking and strong language.
Age guide 16+
Total running time
(Approx.) 2 hours 25 minutes (including a 20 minute interval)
Social media
Members of the audience can photograph or video the performances (without flashes) but only with the express written permission from the relevant production teams and performers.