As part of a university that prides itself on the quality of its research, The Research Laboratory is at the heart of our ethos at the Lakeside Theatre. Our project brings together writers, actors, musicians and choreographers alike with the shared aim of developing exciting new work. Industry professionals and academics collaborate with students in improvising, playing and experimenting; collectively pursuing a line of enquiry through creative practice. Each project has pause points where the work in progress is shared with audiences.
2016
Dignity: Fragments of Reclamation and Response
Performing Dignity was another interdisciplinary production which engaged with the elusive concept of 'dignity', as explored by scholars, theatre practitioners and students of both East 15 Acting School and the University of Essex. The piece consists of interwoven stories and monologues, exploring personal and global issues relating to 'dignity'; one key category that defines us as humans. The show's first performance took place at the Lakeside Theatre on 21st July.
Voices of the Great War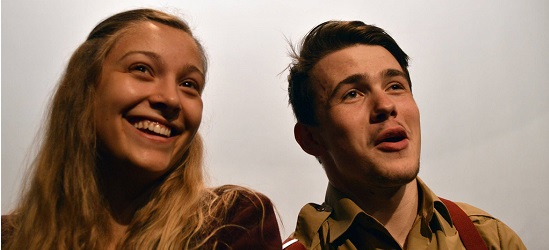 Voices of the Great War is produced by Lakeside Theatre and the University of Essex Centre for Theatre Studies with funding from the Heritage Lottery Fund.
Bringing together scholars and students from Essex's Sociology Department and Centre for Theatre Studies, the play is an original work devised by students, creatives and researchers, based on interviews recorded with those who grew up in the shadow of the First World War.
It is directed by Robert Price and written by Annecy Lax, based on research by Dr Mike Roper and Dr Rachel Duffett of the Department of Sociology, University of Essex. The first performances were open to the public on 24th & 25th June 2016 at the Lakeside Theatre.
My Inside Playground
Essex playwright Professor Jonathan Lichtenstein is collaborating with choreographer Shane Shambhu on a bilingual dance performance My Inside Playground.
By reflecting upon and deconstructing Shane's personal narrative of learning and performing Indian dance in the UK, Shambu and Lichtenstein will evolve a shared vocabulary and narrative to explore the ways in which race, language and identity are perceived. A work in progress performance was open to the public on Friday 13th May 2016 at the Lakeside Theatre.
Jonathan Lichtenstein is Professor of Drama at the University of Essex and an Associate with the National Theatre.
Shane Shambhu is an Associate Artist with Theatre de Complicite and Theatre Ad Infinitum.
Visit his website here.