50 SHADES OF RED: CAMELA CUISON REVIEWS WOLF RED BY TMESIS THEATRE
Thu 1 Nov 2012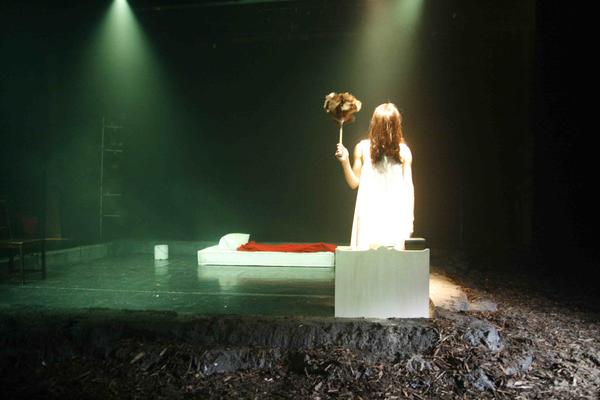 We all know the story: a naïve little girl wanders into the forest dressed in her little red cape and is mortally endangered by a cunning wolf. The play is not subtle in its ode to this much loved fairytale, but by no means is this a world of tidy happy ever afters.
A woman is found within the confines of a room with no doors; yet is it also her own mind that she cannot escape from? Elinor Randle performs a one woman show where the lines of heroine, villain, sanity and utter madness all blur together to give an incredible psychological breakdown to this all too familiar tale.
One cannot help but be in awe of the sheer energy it takes to perform such a physical piece of theatre. Elinor runs, jumps, saunters and fights (her pillow, that is) across the stage. There is absolutely no denying that by the end of the performance, everything has been given.  The all-consuming movements become a direct projection of the character's inner turmoil; the painful breathlessness caused by some of the running sequences are an affective means as any to convey the excruciating internal struggle.
In 1979 Angela Carter's The Bloody Chamber injected beloved bedtime stories with a strong sense of female empowerment and such traditional Fairytales have had a major resuscitation in popular culture of recent, as Philip Pullman writes in his recent piece for the Guardian.  Wolf Red explores the middle ground: Elinor's character is by no means the innocent little girl visiting her grandmother but neither is she quite Roald Dahl's pistol wielding version. While there is no denying that at times this is one sexy play, the matter of sex itself is a concept that Elinor explores in all its shades of grey.
This has been my favourite performance of the year so far, and really gives you something to get your teeth into. Don't forget to  follow other Tmesis Theatre productions at www.tmesistheatre.com
Wolf Red by Tmesis Theatre was performed at Lakeside Theatre on Thursday 25 October. Camela Cuison is the Editor of the Book Section of The Rabbit. Visit the Rabbit Books blog.