Bringing The Globe to Essex
Tue 1 Apr 2014
Lakeside Theatre announces association with Shakespeare's Globe to stage premiere of Omeros by Nobel Laureate Derek Walcott
Lakeside Theatre is working in association with the world renowned Shakespeare's Globe Theatre to stage the premiere of a brand new production by Nobel Laureate Derek Walcott before it transfers to London.
Walcott, recognised as one of the world's greatest living writers, has adapted his Nobel Prize-winning epic poem Omeros especially for the stage. The lyrical narrative spans both time and continents, following the journey of a present-day Odysseus and a beautiful house servant Helen, who incites her own Trojan War. The narrative is rooted on Saint Lucia, Walcott's home island, and will be underscored by live music to evoke its Caribbean atmosphere and culture.
Omeros will be created and rehearsed on site at Lakeside Theatre, based at the University of Essex's Colchester Campus. The hugely-anticipated show will receive its world premiere run at Lakeside Theatre from Thursday 22 to Saturday 24 May 2014 before being staged at the Globe's unique new Sam Wanamaker Playhouse between Saturday 31 May and Monday 9 June.
Omeros will star Joseph Marcell, who's numerous TV and stage acting credits include the title role in King Lear (Globe Theatre 2013) and most famously Geoffrey the butler in US sitcom Fresh Prince of Bel-Air.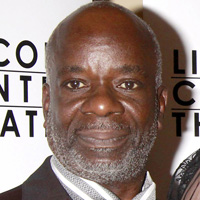 The production will be overseen by director and actor Bill Buckhurst, whose many credits include the Globe Theatre's world tour of Hamlet (2014-16) the UK tour of King Lear (2014), both currently in development, and a cameo as Agent Ronson in Skyfall (2012).
Lakeside Theatre has an extremely strong creative relationship with  Derek Walcott's and staged three of his plays during his time as the University of Essex's Visiting Professor of Poetry –Moonchild, Pantomime and, in 2013, another new work, O Starry Starry Night, about the relationship between Paul Gauguin and Vincent van Gogh.
Lakeside Theatre Artistic Director Barbara Peirson said "It is fantastic that our history with Derek Walcott has brought about this association with Shakespeare's Globe. We're bringing world-class theatre practitioners to Lakeside Theatre to work with our team, many of whom are current Essex students. This opportunity for our students to gain first-hand experience of the finest rehearsal and production practice is incredible. We're really looking forward to the project, and to putting on a memorable show."
Tickets for the Lakeside Theatre production are now on sale at www.lakesidetheatre.org.uk or by calling 01206 8723261.