Frontrunner blog: 'This role is motivating me to become a Drama teacher.'
Wed 11 Jul 2018
Hello all! I'm now 4 weeks into my role as the Lakeside Theatre's Marketing and Events Frontrunner for the summer.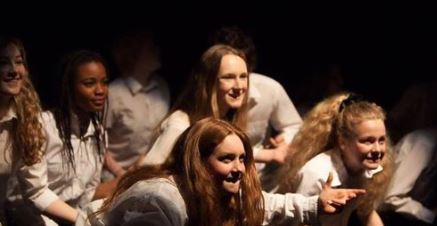 So what's the latest?
Well I've been enjoying spending my Saturdays working with our Youth Theatre.
The children are all different ages and all have very different personalities! I'm getting a unique opportunity to offer support to budding young actors as they create performances, from Shakespeare's greats to 'The World's Naughtiest Children'.
It's amazing to see the friendships these young people have built, and how supportive they are to each other – every session is full of energy and laughter.
All in all, I couldn't have asked for a better few weekends. This role has reinforced my aspiration to teach Drama when I graduate. Learning the ins and outs of what it takes to run a successful Youth Theatre and watching the members become more enthusiastic about performing with every session is really rewarding.
I hope I get the chance to keep working with the Youth Theatre and maybe even Play in a Week, which is kicking off next month
If you're interested in Play in a Week, sign up quick. We're only booking for the second week now (Tue 7 Aug – Sat 11 Aug) which is open to young people aged 12-18 yrs.
Book your place HERE or email our team on youtht@essex.ac.uk to find out more.
Until my next blog!
Matt