NOSTALGIA IN KYIV – ASSOCIATE ARTIST CHE KEVLIN ON PERFORMING AT VIZII FESTIVAL
Tue 25 Jun 2013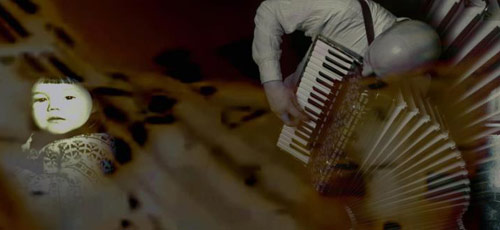 Nostalgia<<2012, a solo show by the Lakeside Theatre Associate Artist Che Kevlin, has recently finished its development time at the Lakeside Theatre, under the dramaturgy and performance guidance of Polona Baloh-Brown. Supported by the National Lottery through Arts Council England, the show has freshly returned from its first international tour dates in Kyiv, Ukraine, being part of the Media Art and Performance program of VIZII Fest: International Festival of Visual Cuture. At Vizii, the show was accompanied on stage by Belarus alternative instrumental trio Port Mone, who have recently reaped quite a few prestigious music awards, including Foreign Experts award at Experty.by for "Khmeleva Project," the album collaboration with Ukrainian avant-garde heavy-weights DakhaBrakha.
Che Kevlin: When I arrived in Kyiv, I was instantly struck by how vibrant the city is in terms of a wide cultural love for photography, film, and installation media. Vizii Festival is a new project of Ukrainian Cultural Centre of photography PhotoCULT, whose purpose is to create a platform for dialogue between the viewer and the artist through authentic and modern forms of visual "language". This year's festival has just finished, having run for a month, 24 May – 23 June, presenting international work in photography, multimedia, video art, video installation, experimental film, and media performance, united by the theme "Archiving of the Visual," dedicated to memory as a social phenomenon.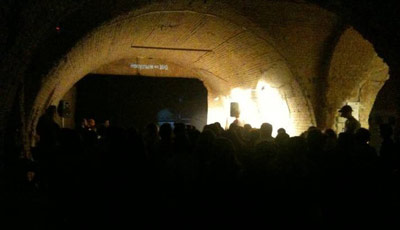 I was very excited about the music collaboration with Port Mone, and of course slightly nervous about the way Nostalgia<<2012, being, in a way, a very British show, will cross cultural boundaries and translate itself for the Ukrainian viewer. To my great surprise and pleasure, both shows, following our two day residency in Kyiv Fortress, were completely packed and it became apparent in talking to the audience members after the shows that the performance had strong associative links with such British films as Trainspotting and Human Traffic. I have not been fully aware of these links when making the piece. According to the feedback, the live collaboration with the band, together with my interaction with a 35mm slide projector on stage, seemed to be very different from the traditional theatre and dance shows commonly accessible throughout the city. I felt appreciated as a British artist, who has taken a modern approach to contemporary theatre making by deliberately avoiding over-saturating the show with electronic sophistication in order to create a visual spectacle. Therefore, the content took centre stage, allowing the audience to take a peek into my very personal take on what it was like growing up in Essex and why I chose to be an artist. Some audience members really wanted to know more about certain situations that had influenced the person that I am today, which provided fruitful conversation.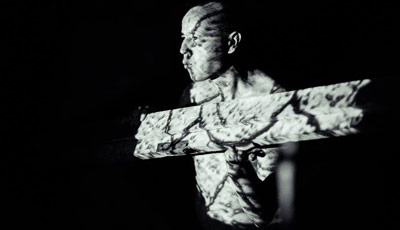 The definitions of genre for different types of art are often debated upon in the United Kingdom. Often questions arise about the ways to pigeon hole one's work formally. Nostalgia<<2012 as a show fitted very well within the Media Art and Performance section of the festival program, even though media performance is not a term I have previously associated with my type of work. Upon review, I feel very positive about this shift in understanding of the placement of my work, and find this realization very useful when approaching future international festivals. I was also very pleased, though slightly surprised, by how well the audiences engaged with the performance emotionally, as I had been slightly concerned with the amount of spoken English in the show. This is why addition attention during devising period prior to the public performances was given to the development of physical and visual narrative. Ukrainian subtitles were added as a projection, and, of course, the live music score, created by Port Mone, helped significantly to communicate the message, the theme, and the feel of the piece.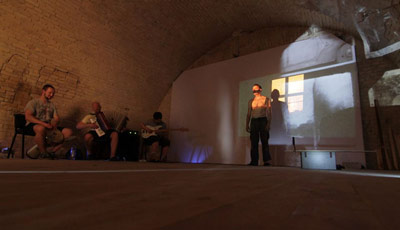 I felt a strong connection with Port Mone, who were very sensitive to the ways in which I work and I was keen to allow complete freedom on their part to interpret the piece. We are now planning an international tour together and started a dialogue with new contacts made in Kyiv as we are very positive that this first-time collaboration will transpire into an exciting larger project.
My personal feelings is that Nostalgia<<2012 as a show will evolve as it crosses borders into new territories and I am now developing community workshops linked to the performances, which will allow the participants to contribute to the project and broaden the scope of the cultural exchange. Engaging with other cultures, is a truly fulfilling experience and I am learning a lot every day so I do hope to share this in my travels in a way beneficial to the public. I look forward to celebrating the final show in the UK so that I can present the findings of this journey to the British audiences.
I am very grateful to the Lakeside Theatre for its support of the show, and would like to thank European Cultural Foundation for awarding me with the Step Beyond travel grant to participate in Vizii Fest.