Off The Hook / On The Record
Mon 24 Feb 2014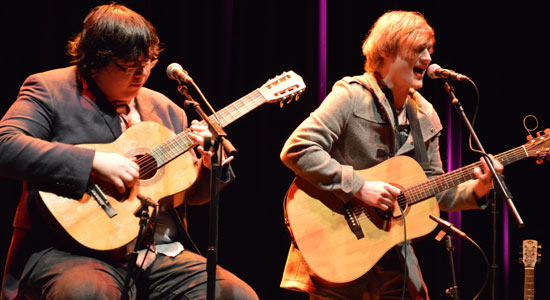 We made a live album! It'll be yours for free.

On 21 February a little bit of Essex history was made as 12 student, alumni and staff musicians put their tunes on record, live on stage at Lakeside Theatre.
All of the performers are regular players at The Hook Open Mic and we thought it was about time to celebrate the new live music scene that has sprung up around it in the last 18 months.
With the help of a bunch of technical legends, it happened, and it happened good. Massive kudos to John and Stewart from Moving Memories, Anna, Sarah and Phoebe from the University of Essex Video Making Squad, Chris Secker (the man who reunited Cream) on sound desk and Lakeside's own luminary magician Harry Harris on lights. It looked and sounded beautiful, I can't wait to show it off.
The video and album are being mixed as I type and will be available to download for free, yes free, from this website as soon as they're finished.  It will feature some superb performances from Ismail Ahmed (feat Keith), Oliver Morris, Rob The Liar, Conor Myles, Owen Robinson and Kaly Temmink, Naz Toorabally and Ella, Abigail The Brave, Alex Collins, Daniel Freitas, Lukas Beleska, Richard Keen and Tim Wilde.
Watch this space for the album & video launch. For now, here are some photos from the night.