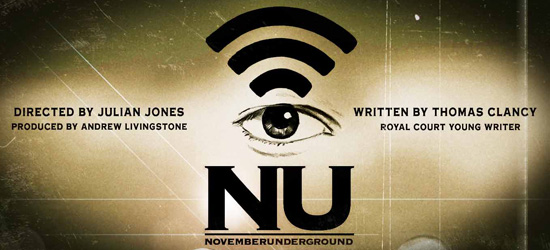 NOVEMBERUNDERGROUND
Fri 26 Jul - Sat 27 Jul
'they didn't tell me anything. Just – Room number, body, car, ditch, shovel.'
Originally developed as part of The Royal Court's Studio Group, Novemberunderground is an unnerving and highly distinctive play exploring identity and communication in a world where you can express all your opinions with a semi-colon and a bracket. Hotly tipped for success at this year's Edinburgh Fringe festival, catch the show here at Lakeside Theatre first.
Thomas Clancy is a Graduate of the Royal Court's Young Writer's Programme and Studio Group as well as the BBC's E20 Writer's School. He is currently writing a new play for HighTide Festival Theatre. Novemberunderground was Longlisted for the Bruntwood prize and enjoyed a one-night sell out show at the Soho Theatre as part of the Rose Tinted Festival 2012.
"Cryptic and Beautiful. A world that constantly surprises us."
Bruntwood Prize panel 2011
Recommended age 16+ Contains occasional sexual and violent language.
Fri 26 Jul - Sat 27 Jul

7.30pm

7 Full / £5 Concessions
Book Now